Nicole Brard
Vensac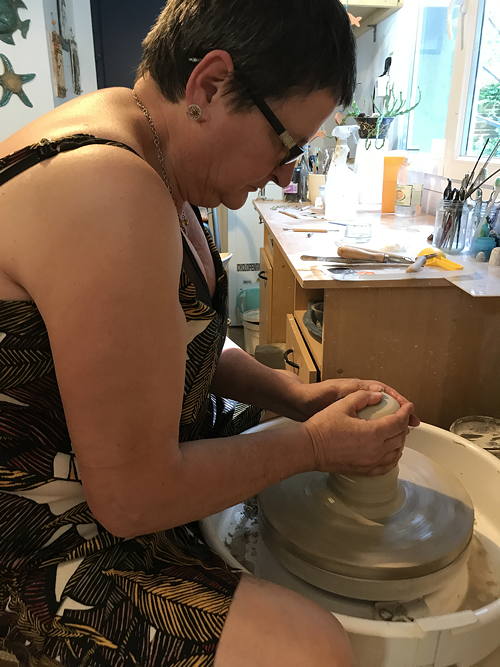 Like so many people, my first forays into the world of art were through painting. Oil, watercolour, pastel and then, most of all, exploration of different media. I'd always been attracted to working in clay and in 2015 I had the opportunity to get to know its texture and feel. That was a revelation. Creating in 3D was just what I wanted to do.
I soon started to use the potter's wheel. Even if the apprenticeship is somewhat arduous it was essential for me because throwing always lends a touch of magic to my creations.
I also use other techniques of working the clay to produce things. I was drawn to Raku which is a spectacular glazing technique, full of surprises, with immense possibilities. Both the technique and the results are surprising. Each piece is unique because it is constrained by the unpredictable nature of the firing.
I have several favourite subjects. In the first place the world of the sea. My underwater diving is an inexhaustible source of inspiration. The connection with nature, from which I often use seeds and leaves for creating prints. I love to make useful decorative objects to enliven our everyday lives: the art of beauty.
Largely self-taught, I've been trained by following my creative instincts, my experiences and my observations. Having an enquiring mind, I continue to look for new methods, new clays, new ways of firing or glazing, because work in clay has infinite possibilities.
2020