Joseph Fragoméni (alias Mazarin)
Lesparre
The costume museum in Lesparre: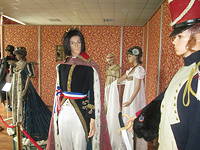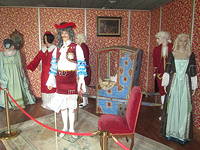 →
oeuvres already shown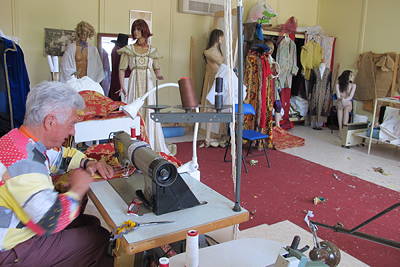 Born in Calabria (southern Italy) in 1937… He entered at 10 years old, into training as a seamster and, at 20 years of age, left his homeland to face the Parisian paving stones. He worked from 1960 to 1970 as a cutter & model maker in a leased factory. In 1966, he created the line "loan of the body": long jacket, shoulder pads, pagodas and trapeze slits, the low-waisted pants and 'elephant legs'. This line gradually took over Paris and the Provinces. In 1970, Giuseppe Fragomeni decided to become self-employed and opened a shop located in the Marsh, just a few steps from the Place des Vosges to which it gives the emblematic name of "Mazarin". To this day, it gives free reign to its imagination, and the fashion shows which it organises are the occasion for him to produce innovative styles for the time: costumes with flowers, with spangles, costume piano and jacket with a "human" profile.
In 1976, he started to work for the Cinema, the Theatre and in commercials, which gave him the opportunity to mix with the stars of the '7th Art', at the same time French women, but so international. His gold 'autograph-book' does not count less than 1000 signatures of famous characters of which Simone Signoret, Jeanne Moreau, Amarande, Philippe Noiret, Francis Huster, Jean-Claude Brialy, Jacques Villeret, Guy Marchand & Jean Carmet are just a few.
From the Year 2000 Mr Mazarin withdrew from his profession to embrace other passions, such as poetry, gardening and especially the production of spectacles. His association 'Red wire of the Medoc' made, in Lesparre, spectaculars such as 'the Poor wretches', 'the Marchionesses of Louis XIV', 'the French revolution'… and the elections of Miss Medoc and Aquitanian Miss with Mrs. Geneviève de Fontenay. Mazarin travelled between Lesparre Médoc which he chose as a residence, and the district of the Marsh of Paris where he left his heart… In 2015 it will open the doors of its Palate of Costumes with Lesparre with the assistance of the lesparaine municipality…
2018