Sandrine Latronico
Saint-Vivien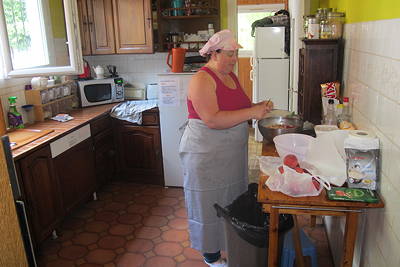 I had been a mother for eight years and had had enough of industrial food products. So two years ago I started to bake my own cakes. My daughter anyway no longer wanted industrially baked cakes. So at the end of two years, I decided to work not just anywhere like everyone else, but to do something creative. It was baking that appealed to me, but only dessert cakes. I also wondered what I needed to do to start my own business.
However during the first year, many people also asked for savoury pastries, so I started to make savoury cakes, vegetable tarts and quiches, in short everything you need for a substantial aperitif. With that the business began to grow significantly.
And now we are a family business, and I use local produce, milk from Vendays, and fruit, eggs and vegetables from the market. Then I began to sell my cakes on the market as well, and to offer a delivery service, such as for weddings and evening events. The demand grew enormously; neighbouring municipalities and communes asked me to sell my produce in their localities ("we want you in Le Gurp").
I make my living in the summer. In the winter it is hard, and I have no regular income. As a result of a small inheritance I was able to buy my own delivery van, which I can drive without a licence (because I have no driving license). And now I can sell my produce in Lesparre, Hourtin and Valeyrac.
2018