Gunhild Lorenzen
Grayan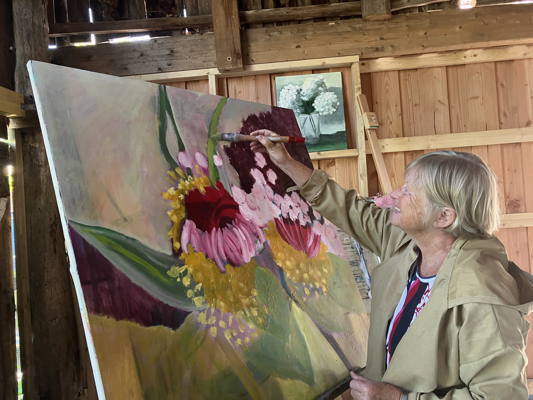 My mother used to paint, and from the moment I was born, she took me with her to her studio. For her, it was the simplest thing, and for me, it was the most wonderful thing. At the age of two, I was so inspired and fascinated by the fantastic colors of my mother's universe that I would imitate her armed with brushes and paper, completely absorbed in my happiness and joy of living.
At the age of five, I would set up a table with my children's drawings in front of our house in northern Germany. I would sing nursery rhymes to passersby and offer my paintings for sale. And sometimes, with the 10 pfennig I collected, I could treat myself to an ice cream.
Later on, I studied art and music with the intention of becoming a teacher. I took figure drawing and color theory classes. During my years in Brussels, I attended evening classes at the Museum of Fine Arts. Then one beautiful day, I felt ready to exhibit my work. First in Europe (Belgium, Germany, Denmark), then also in Singapore and Canada. And now in France, in the Médoc region.
The human being, with all its complexity, narratives, and ephemeral nature, as well as nature itself in all its nuances, the process of becoming and disappearance—these are my favorite themes.
The aesthetics of our existence, always in line with the great masters, the light that Giorgio Morandi was not the only one trying to capture, and the fortuitous beauty in everything, the interplay of colours, shapes, and the strange—these fascinate me so much that for over 55 years now, I have been striving to express what my eyes perceive.
2023