7 original new works enrich the EDGARD PILLET Collections

Starting in 2019, CASA PILLET at Saint-Christoly-Médoc displayed the first stage of a permanent, free exhibit called THE COLLECTIONS OF EDGARD PILLET.
Who was Edgard Pillet?
Born in Saint-Christoly in 1912, Edgard Pillet studied at the Academy of Fine Arts in Bordeaux and then at the Academy of Fine Arts in Paris. He began with sculpture. But, from 1945, painting became his favourite mode of expression. He was then one of the leaders of Geometric Abstraction in France. His canvases were exhibited in museums around the world, alongside those of Poliakoff, and Sonia Delaunay. During the 1960s he invented "The Crucibles", compositions mid-way between painting and sculpture.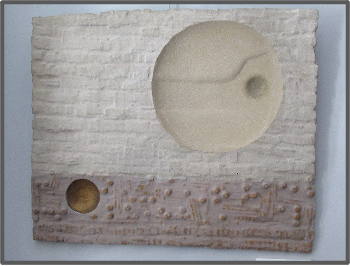 He made films such as the cartoon "Genèse" curated at the Pompidou Museum in Paris. He was involved in many architectural projects in France and in Africa. During the course of his career he received many prizes. Edgard Pillet, a great artist in many fields, at the same time, painter, sculptor, architect, writer…. has, unfairly, sunk into oblivion.
The Edgard Pillet Collections
Thirty original works are exhibited in chronological order, following the journey of the artist: oils on canvas, vinyl paintings, silk screen prints, photos of monumental works, posters for exhibitions as well as 4 "Crucibles" - the most influential contribution of this artist to 20th century abstract art. Interviews with the artist are available to see here. Hour long visits with a commentary on the life of the artists can be organised on request.
But also
At RDC of CASA PILLET there is an antique and junk-shop where you can find furniture, ancient and modern pictures, vases, carafes, glasses, cutlery and other knick-knacks. And you can complete your visit here with refreshments at CAFÉ d'EDGARD
2021 Véronique Auriol (Saint-Christoly), translation: Margaret and Richard Beasley