Tam-tam and Bonagar magic at the music festival of Pauillac

For the summer 2015 edition of Pauillac's music festival, the local cultural organisation Les Tourelles had been charged with the entire management oft he event and the result was a triumph of quality.
Of course, everything was not perfect, but it certainly was real pleasure! Of course, sad or ill minded critics will always find reason to criticize and might for instance complain that there were times when they lost their time, that some presentations were too long, that it would have been worth while having a real stage manager to ensure a smooth flow, avoid gaps, keep the public and maintain its attention tot he end.
Whatsoever, those who did not have enough patience to stay until the end really missed something: two top-class performances, one starring amateur musicians, the other offered by an outstanding professional quartet.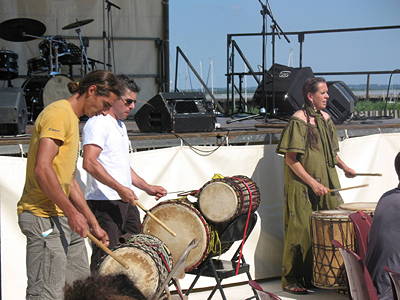 The amateur performance was possible thanks to Dominic Duluc and his initiative to engage percussion trainees from his classes in Pauillac and Hourtin thus forming a large group of djembe and dumdum players. The tam-tam group offered its public an impressive choice of traditional African rhythms and some afro-south American pieces like Brazil as a very pleasant combination of traditional African and samba elements. The spectators were all under the spell of he payers' enthusiasm. They even let themselves be seduced to take up the African songs and repeated in answer to the players' voices, and at the end granted them a storm of applause! I wish from the bottom of my heart that Dominique Duluc will have many, many trainees to share with all of us the joy he puts into the eyes of all those who meet him and his tam-tam players!
All to the honour of he cultural association Les Tourelles, this was yet a mere introduction of what was to become the real highlight oft he evening: the concert with Bonagar & Co. A quartet of four top-class professionals under direction of he virtuoso accordionist Philippe Garonne: Alain Bonamy, ever since Philippe's musical companion, with his magic cello that seems to sing all by itself, Nicolas Quédreux, a highly talented flamenco guitarist, and as a surprise once again Dominique Duluc who offered us a breath-taking percussion performance.
A breath-taking quartet! I can only say that one should never miss the occasion to profit from their magic spell magic and I am certainly looking forward to hearing and seeing them again on stage.
2015 Michel Larroche (Saint-Yzans), Free translation by Déa L'Hoëst