Excursion to the sea station of Le Verdon

extraits de la video bordeauxmole des Croiseurs Médocains (Youtube)
How often have I looked west on the beach of the Médoc and crossed the horizon with my thoughts - in a steamer to America. So it could have been to take the wishful thinking from here to the New World, then as now. And this could have been the case back then: I go to Le Verdon to the Seebahnhof, board the ship after completing all the formalities, busy life on the quay, the chimneys smoking, the ropes being loosened and we turn towards the open sea, America in front of us.
A dream, but there was indeed a time when it could come true: In the 30's, 40's of the last century there really was a sea station from which large passenger ships sailed the transatlantic route. A railway connection led from Bordeaux to the jetty, customs clearance ensured correct border traffic, and everything was necessary for passenger clearance.
Not much can be seen of this building, built in 1933, today. It was intended as a port to handle passengers from the numerous colonies and bring them to Bordeaux comfortably and without losing another day on the river. This required the construction of large buildings that would allow mooring manoeuvres to be carried out regardless of the tides.
The pier was 377m long and 38m wide and consisted of a reinforced concrete platform with supports resting up to 8m deep in the bottom of the Gironde. A curved access road of 372m length led from the mainland to the facilities consisting of the station, the sorting tracks, the hangars, an emergency station, a post office and other buildings. On July 22, 1933, this maritime station was inaugurated with the arrival of the Champlain from New York.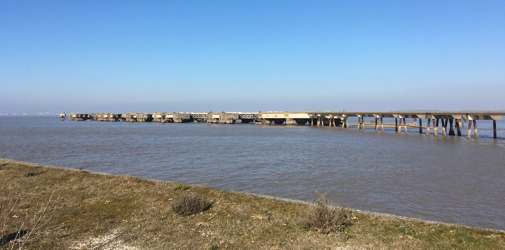 Despite the disadvantages of its location, however, the port of Bordeaux remained more attractive for shipping companies and the rather low passenger volume at the sea station disappointed all expectations. About 100 transatlantic liner berthed at the "avant-port" (sub-port) during its short service life. The Second World War meant the end of this crazy adventure of a sea station somewhere in nowhere. The German occupation, which controlled Royan and the Pointe Grave, blew up the Seebahnhof on 11.11.1944.
Largely undiscovered by the stream of tourists, the still impressive remains of the platform can be seen today. It shows itself as an archaeological relic from the 20th century with remarkable perseverance, as a remnant of former French engineering art.
2018 Christian Büttner (Saint-Vivien), Translated with www.DeepL.com/Translator