I do my bit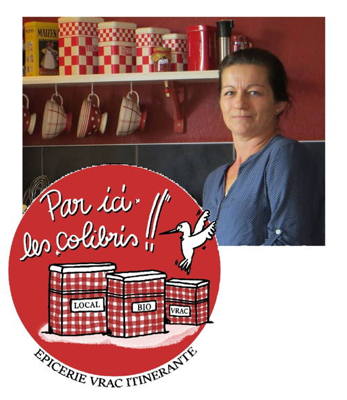 "The best waste is that which is not produced". By reducing our waste we can say loud and clear: I do my bit.
My name is Fredérique, living in Queyrac for more than 40 years, married and a mother of two big boys aged 20 and 13. Secretary, accountant, I later worked in sales at a supermarket. Shortly after the arrival of my first son, I decided I would like to spend more time with my family and I became a nanny. During those years I welcomed 22 'teeny-weenies' who gave me an enormous amount of pleasure but, becoming more and more concerned for their environment, I wanted to play a more active role in the protection of our Beautiful Médoc.
Do you know how many kg of waste are buried at Naujac Sur Mer ? Not less than 25,000 tonnes and I'm not including recyclable and compostible waste. If we add all waste together we throw away 709 kg per person per year. That's ENORMOUS !!! What do you think ?
So I'm going to present to you my roving bulk store, which you will find on all the North Medoc markets, and which is called "Par Ici Les Colibris" ("Humming Birds Over Here").
Some will perhaps wonder why the name. Quite simply because each one of us can participate like the humming bird of amerindian legend, and I quote:
One day there was an immense/huge forest fire. All the animals, terrified and aghast, watched powerless as the disaster unfolded. The small humming bird alone set to work, collecting small drops in its beak and throwing them on the fire. After a moment (or two) the armadillo, irritated by this derisory/pitiful action, said to it: "Humming bird! Are you mad ? You can't extinguish the fire with those drops of water ! ". And the humming bird replied: "I know, but I'm doing my bit".
Because every drop counts, together we will get there more easily than if each one stays in his own corner.
That's why today I'm presenting to you my project, which will enable you to:
⁃ decrease your waste by re-using your containers (bottles, boxes, cloth bags)
⁃ Avoid food waste by choosing just the amount you need
⁃ Economise by paying only for the product (no packaging, no branding ...)
⁃ Live more healthily with products from bio or responsible agriculture
⁃ Reduce pollution by using local, French products = reduced transport
⁃ Save time since you will no longer have packaging material to throw away when storing your shopping, and you will put waste bins out less and less frequently
You can find me in the morning at these North Médoc markets: St Vivien, Soulac, Hourtin, Pauillac. In my truck, you'll find:
2019 Frédérique Cazorro (Queyrac), translation: Richard Beasley