Correspondent for the Journal du Médoc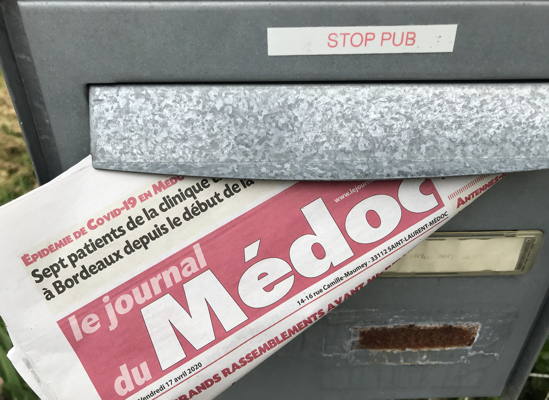 I'm often asked why I participate in the adventure that is the Journal du Médoc, and what motivates me to pick up my pen in this so sympathetic weekly newspaper. Frankly, over the three years that I have been the local correspondent for the commune of Arsac, I've never posed the question to myself. I really should give a reply!
First of all I believe that the limited structure of the newspaper, comprising just five permanent staff, attracted me because a genuine camaraderie among us leaves no place for a battle of egos, and so a relaxed and convivial atmosphere reigns within the office. As for the twenty correspondents covering the whole of the Médoc, since no-one has anything to prove (for we are in essence volunteers), the atmosphere when we get together has to be felt, especially on the occasion of the annual meal that our mentor offers us!
But that's not the most important thing. For me, two principal arguments motivate my involvement: the prime satisfaction is to write, that is to use the grammar and words of our beautiful French language, and to play with them to best illustrate a particular situation or event that the readers obviously can't see for themselves. Then, to account for the many situations met with on a day-to-day basis by the associations, administrations or businesses that we rub shoulders with but know so little about: to explore their past, talk about their present, and speculate on their future.
In conclusion, one really important thing for me, which I am happy to engage in, is to promote "paper-based news". It is the pleasure I find in the smell of paper and printer's ink; the pleasure of physically turning the pages; the pleasure of transforming these "hieroglyphs" into feelings and sensations. What happiness!
2020 Bernard Marchand (Arsac), translation: Margret and Richard Beasley