Cordouan classified as World Heritage Site for Humanity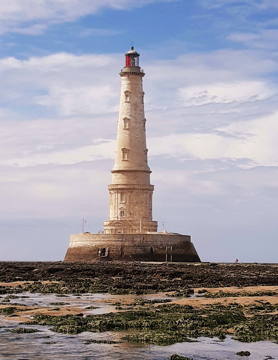 Saturday 24th July 2021 enters Cordouan's history!
The 44th session of UNESCO, from 16th to 31st July at Fuzhou in China affirmed that Cordouan was worthy of this distinction and recognition.
This classification honours the monument which the Association has been caring for since 1981.
It also honours our country (which supported the original candidature as a lighthouse), institutional partners (notably SMIDDEST and the Regional Directorate of Cultural Affairs), local organisations (the Gironde and Charente-Maritime Regional Councils, the Regional Council of Nouvelle-Aquitaine), all those citizens, who have worked for, and will continue to work for, making this exceptional piece of our heritage a worthwhile and valuable place to visit.
THANK YOU FOR ALL YOUR EFFORTS AND SUPPORT!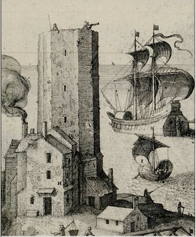 Cordouan lighthouse, originally simply a tower with a seamark rather than a lighthouse, was built during the time of the Black Prince, Edward of Woodstock (1330-1376), when Guyenne belonged to the English crown.
Having fallen into a state of disrepair, this structure was replaced by an original work of architecture conceived by Louis de Foix from 1584. The monograms of Henri III and Henri IV can still be seen inside the lighthouse. The contract for this rebuilding of Cordouan was signed on 2nd March 1584 in the presence of Michel Montaigne, mayor of Bordeaux.
The work was completed on 29th April 1611, several years after the death of the designer of the tower. The second storey is a consecrated chapel. Several modifications were later carried out to improve the lighting.
Joseph Teulère (1750-1824) raised the tower to its present height of almost 68 metres.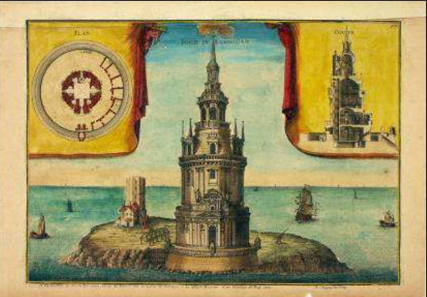 The installation of the revolving lens apparatus of Augustin Fresnel was a technical revolution of worldwide importance. This lighting system, tested on the Arc de Triomphe in Paris, was installed in the presence of its designer on 25th July 1823.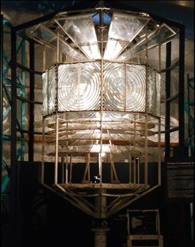 Despite its designation as a historical monument in 1862 the lighthouse was threatened with being abandoned in 1980-81 as a result of technical advances in navigation. Without a human presence it was at risk of being vandalised.
In November 1981 an Association was formed to make the public aware of the richness and originality of this heritage, and local groups participated in reconstruction work in conjunction with the State. In 2002, at the instigation of the Association and two scholars, a formal request was submitted to UNESCO, and the Cordouan lighthouse appeared on the indicative list of Monuments of Worldwide Heritage status for Humanity.
Since 2016 the State and the Combined Syndicate for Sustainable Development of the Gironde Estuary have been involved in the process of classification. Two basic criteria have been enunciated: "Masterpiece of human creation" and "Universal value as a monument".
From now on Cordouan has UNESCO classification. A new adventure for the monument
2021 Jean-Marie Calbet (Gaillan)