On Montalivet beach*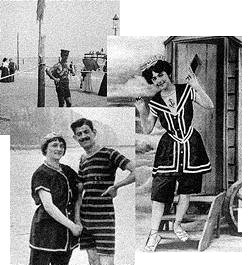 As day slips gently into night the sea breeze fills our lungs. As we breathe we watch the surging, somewhat wild ocean. The bravest go into the cabins to don a decent bathing costume for a dip. The ladies wear a sleeved costume which covers their bodies. What would they say if they were to see our waternymphs of today? Some find the water a little cold but help is at hand.
In front of M. Peyruse's chalet in those days there was another belonging to Mme Berard, known as Jeanette. It was carried away by the waves. This lady's son-in-law, M Lanau, decided to set 2 – 3 bathing machines in cement within wooden cabins. A mighty cast-iron stove ensured constant boiling water drawn from the sea in a barrel. From afar the pipe of the smoky furnace resembled the chimney of a steamboat on the horizon.
There was never a shortage of clients. Old Lanau was a good businessman. With their appetites sharpened by the fresh salty air, by the strong smell of resin and everlasting flowers, and by the dip (warm or cold), everyone hastened to lunch. Each quickly grabbed a plate and made their way in procession to la Titonne to receive their salt meadow-fed mutton cutlet. No-one who has eaten one of these fine cutlets will have tasted anything as excellent. In those days they were better known in the Médoc than Mother Poulard at Mont Saint-Michel.
In the yard of the Laporte Hotel old Cadachon lit a large fire of vine cuttings and an enormous grill was set up on this brazier. Mme Titonne – large, strong and highly active – placed her meat with a flick of the wrist, sprinkled it with salt, and retrieved it at just the right moment. The penetrating smell of mutton spread far and wide, and sharpened appetites even more. Each held out their plate, handed over 20 sous, and left with their cutlet. I have no idea how many sheep were sacrificed every Sunday.
In the folds of the dunes, on the golden sand of the beach, or in the shade of the pine trees, picnics were set up and bottles of good Medoc wine emptied. Truly delicious. At the end of the day everyone left satisfied.
2021 René Banneau, (Vendays / Montalivet), translated by Richard and Margaret Beasley


---
* in the 19.-20. century; extract of the text: Banneau, R. (1959). Montalivet. In J. Germain. Le Médoc et ses plages Bordeaux : Éditions Les nouveaux cahiers