Mosaic Workshop in Grayan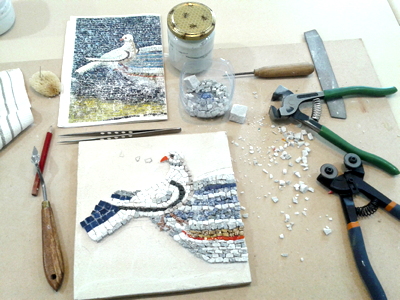 I'd already taught myself to make mosaics but it was beyond my wildest dreams to think of learning the different techniques ( reproduction of antique mosaics, contemporary creations, decorative mosaics, murals, decorating objects with mosaics ) here, in the middle of the Médoc.
And so it was with great pleasure that, this winter, I discovered the "Médoc Mosaics" workshop: and above all Christine Kerfant, a mosaic artist for more than 15 years. Trained by Italian and French master mosaic workers, she set herself up in Grayan-et-l'Hôpital in 2015. Different levels and different techniques are taught at this workshop. As for me, I chose to try and reproduce antique mosaics because I wanted to learn to cut the marble tesserae with a little hammer. I chose to reproduce part of a mosaic from Ravenna in Italy: "The Doves".
Several of us regularly attend the workshop: some choose to start by making a table mat or a little picture; others want to get going in 3D by decorating a terra cotta pot for the garden; yet others want to make a mirror or a mosaic number plate for their home, or even more personalised creations. In a nutshell, anything is possible. Everyone can follow his/her own project.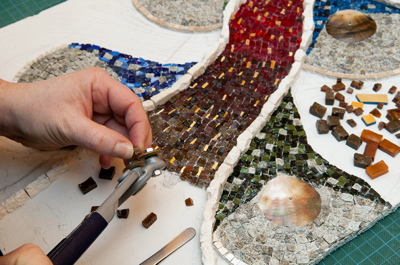 Christine's teaching style ensures we all learn good ways of doing things so that we can 'enjoy the moment' and develop our creativity without constraint. While respecting our creative choices she offers plenty of advice, encourages us to discover different materials, their colour and texture, their greater or lesser resistance to cutting, and to understand how to position the tesserae to get this or that visual effect. Discovery, learning and relaxation all happen at the same time …. and time passes too quickly!
The workshop is open all year round for young ( from 4 years ) and old, and also offers courses during the holidays. Full information is available at mosaiquemedoc.fr or by calling 06 86 87 24 52.
2018 Maïté Bardel (Saint-Christoly), Translated by Margaret Beasley