Edith Bruic
Naujac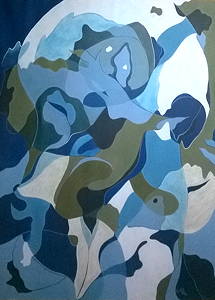 « Ci-git la chair de mon gynécée, crûment cité,
qui passe #2», acrylic and pigment
on canvasauf Leinwand, 120 x 160 cm
→ evolutionary history
→
products earlier shown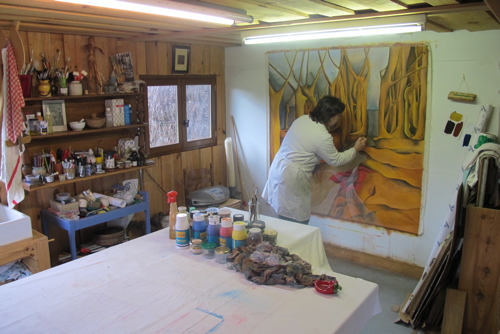 Inspired by those of Marguerite Duras, my kitchen & my workshop have become experimental laboratories. What I get from the kitchen is a love of colour. From the confusion of spices and pigments. From analogy between curry and the soil of Haute Provence.
My current project retrieves and recycles fruit and vegetable peelings, bones, shells, sand, roots, bark and gives them new life through the process of collage.
Unlike Daniel Spoerri (Eat-Art) I develop the beauty of the work by manipulating and using pigments. Basically painting.
Certain techniques enable me to address problems of durability, conservation and memory. From perishability to permanance.
By these means there is a traceability. Each work is evocative – of a place, a date, a name, a story. From permanence to sensitivity.
2015