Chainsaw Sculpture in the Médoc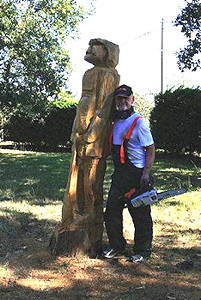 The trunk of the tree is standing solidly there where the transporter left it for us in our garden, without roots, without its majestic crown. Unfortunately the ancient oak, too ravaged by time, had to cede its life; it had to be cut down. How I had loved and revered this tree! I wanted to spare it an ignominious end in the hearth; it had really not deserved it.
The trunk was standing there, alone and lonely, just waiting for someone like me, the Bégadan chainsaw sculptor. How could I create a sculpture in its honour to immortalize the tree that it had been?
It had lent us its shadow, protected us from rain and sun, under its leafy panoply we had searched for and found cepes. The tree had been our green patron saint and that is how we wanted to remember it – as our Green Knight.
And so it was that after long hours of work with my chainsaw, here we stand before our giant Knight standing over two and a half metres tall, with sword and shield, a natural monument to thank the tree for the happy times we had been able to spend in its presence.
2015 Klaus Schinofen, translation: Christopher Murray
PS: Chainsaw Carving - comes from the United States and has found many admirers in Europe. There are competitions several times a year. I would like to meet other chainsaw sculptors or wood carvers, to make sculptures here in the Médoc.