Baroque music in Medoc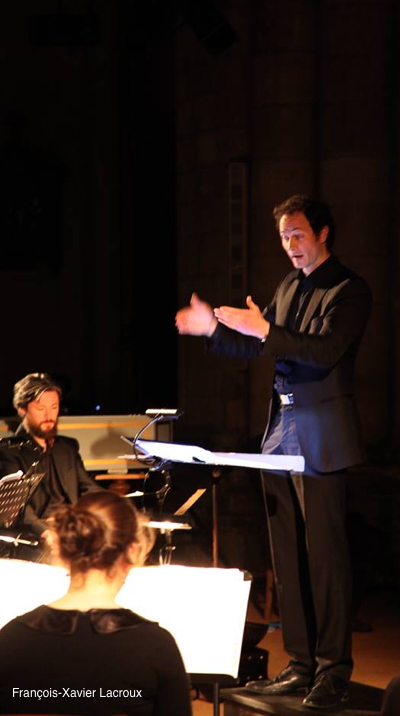 A real matter of chance! Michel just received a phone call from baroque music director François-Xavier Lacroux in person to ask him if it was possible to organize a concert in Medoc for his baroque music group Les Chantres de Saint Hilaire and their Italian colleagues the Accademia d'Arcadia from Milan. At the end of the month. Just like that!
A real matter of chance! We had always tried to get François Xavier interested in a Medoc Concert Tour and they were always booked out and all around the world but not around our place. This time, the planning for their super production « Combattimento musicale » or music contest had undergone some last-minute changes and one date normally reserved for concert was free. Instead of leaving his musicians staying idle or proposing them another rehearsal, François Xavier remembered Michel's reputation as an incredible organizer who is able to put up anything in no time just like a magician pulls a rabbit out of his hat.
This is how it all started. We will finally see the Chantres de Saint Hilaire in concert at the end of the month in the very heart of Medoc. Hopefully that it will be a great success to make them eager to come back for further events! We are now pulling up our sleeves and working hard at it so as to get everything ready and we are grateful for all the help the association of the friends of the abbey of Vertheuil offers us, for things turn out to be very special indeed: this exceptional music event will take place in the famous and most beautiful abbey-church of Vertheuil!
François-Xavier Lacroux and his Chantres, what a story! We got to know him through Michel's daughter Cecile, a highly gifted professional soprano singer specialising in baroque music which is her great passion. For many years she has been regularly singing for the Chantres de Saint Hilaire and of course we didn't miss an occasion to go and see her on stage which turned us into great admirers of François-Xavier and his top-quality ensemble. Operas, concerts, open air events…: their music is always precise, incredibly clear and full of emotion, ancient notes played on ancient instruments, and yet forever young with François-Xavier displaying great taste for innovation and astonishing creativity.
With their concert in Vertheuil on Sunday evening august 27 we are certainly up for a new surprise. The musical joust between the two equivalent French and Italian teams of 13 musicians each is promising indeed with the playful notes of Italian composer Claudio Monteverdi competing the dramatic melodies of French composer Nicolas Formé, both born 450 years ago in 1567. It is a friendly joust to the honour of their jubilee where two worlds of music meet in contest, both equivalent in value though different in expression. A joust where the champion can only be music and nothing but music.
2018 Claudéa L'Hoëst (Saint-Yzans)