From paradise to paradise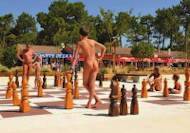 Euronat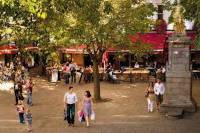 Jersey
Guestbook entry of a chalet in Euronat:
"Having arrived at your lovely chalet, I felt that there was a very warm and happy atmosphere and that everything had been arranged and put together with great loving care. I live at Jersey, the biggest of the Channel Islands and I find that the sea, the dunes, the fauna und flora are much the same – but there are things we haven't got and which I much enjoyed:
We haven't got those wonderful, fresh croissants and baguette, the choice of so many delicious local wines – the cars driving on the "wrong" side of the road, and the tall pines with their very long needles (to name but a few).
I thought Jersey was a little paradise island, but here we are perhaps even nearer to paradise – as there are also a lot of "Adams" und "Eves" about!"
2015 Ingrid Hope (Jersey)