Hollywood in the Médoc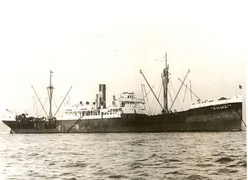 The highest tide coefficient of the year in March 2015 resulted in an exceptionally low tide, a good time for a trip to La Negade , Amélie near Soulac, which provided the rarely seen spectacle of much of the exposed wreck of the USA ship Hollywood.
On 29 November 1945, this American liner registered under number 2220527 (home port of Los Angeles) came aground off the coast of the Médoc 1.5 Miles to the South West of Soulac sur Mer. Launched on 25 June 1920 by the ship-owner the US Shipping Board under the name of WEST NUMIDIA it was immediately renamed Hollywood according to the records. (technical sheet).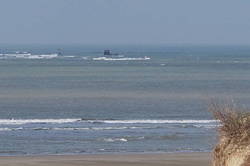 The stranding of the Hollywood was the result of a navigational error which brought the ship close to the sandbank off St Nicolas and its very dangerous rocky promontory between the G5 and land (the channel to the south of the Gironde is marked out by illuminated beacons and (non-illuminated) passive buoys which are all identified as G and numbered 1-7 (G for Gironde). The G5 is a buoy which is located at the point where the channel changes direction towards the Charentaise coast), namely at:
Longitude 1 ° 10,8316' W
Latitude 45 ° 29,0134' N.
The wreck of this steel ship lies at a depth of 10 metres and can be exposed during low tides and rough seas. As to the other circumstances there is little or no information as regards for example, the name of the captain, if the crew and passengers were saved or what was the intended destination of the ship.
2018 Xavier Naboulet (Macau) translation: Christopher Murray