Arrived in Médoc - A European Round Table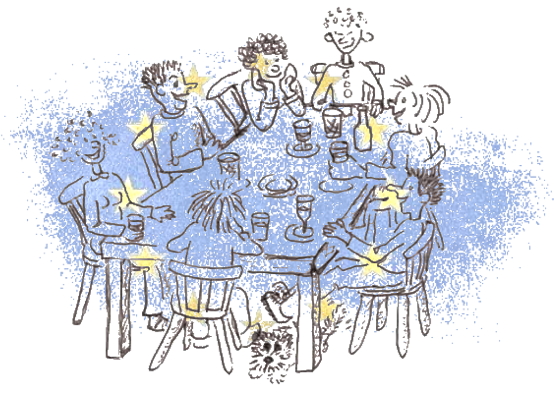 During the last months, we have received numerous requests from people (see our guestbook) who have recently settled in Médoc. Newcomers would like to know how to get information that could help them participate in local activities. Their requests have made us think about what possibilities we have as "Médoc actif" to support the newcomers.
After having made private invitations, we realized that this cannot become a habit, and we started to think about alternatives: What could support newcomers not just individually, but could also enable them to dive into their new life independently and promptly? We thought about what could motivate people, who have been living here a short or a long time already, to participate in joint meetings?
Such considerations are not new to us. Many years ago, the initiative "Se divertir en Médoc" had organized a one-time meeting to support new arrivals in the region. Another action we have tried - also many years ago - was the "apéro des filles", where women would meet for chats in Saint-Vivien.
Informal and non-binding activities also exist, to our knowledge, in the "Café polyglotte" of the CALM (Center d'Animation Lesparre-Médoc). "Café polyglotte" is primarily for people who are interested in foreign languages. But of course you can also get all kinds of information during the evening, for example about local and regional associations where you can contribute as a volunteer. We ourselves have had very good experiences as volunteers, and made many acquaintances and found friendships.
But what can you do if you are less interested in learning the language in an official setting? What else is there if you do not want to integrate into a club life with all its pleasant and difficult facets? If you want to immerse yourself in the culture of the country and its people as a "freshman" in Médoc - without an organized program? Or if you are just looking for a social network?
We thought of a "European Round Table" with the following ideas for communication:
- informal get-together (without program) of people who want to socialize
- an exchange of experiences that have been made whilst arriving or staying in Médoc,
- questions about the country and people that will be answered by invited special guests,
- developing and planning joint activities,
- ...
- And we imagine, the meetings would take place in the surrounding of a welcoming place with a restaurant, for example the "Maison Artemis".
We thought of meeting on a fixed date (or by mutual agreement also during other times) in a central place, where we can drink something together and / or have a bite.
Why a "European Round Table"? The Médoc region has long been a home to many people from different European countries. That will certainly stay that way or even increase. As a result, Médoc is becoming increasingly European and we want to take that into account.
Do you like our ideas? Would you consider joining or would you even be ready to initiate something as suggested together with others? If you are interested and would like to participate or initiate, then please send us an e-mail, and we will assist you with advertising, with our contacts, and with all the information we have at hand.
2019 Christian Büttner / Elke Schwichtenberg (Saint-Vivien), translation: Gunhild Lorenzen