The chef of the "Saint-Seurin" at the INTERNATIONAL FAIR of Bordeaux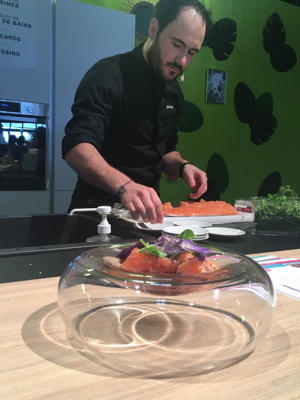 For the second year running, I was contacted about the international Fair of Bordeaux, by chef Jesus, columnist at France BLeu Gironde. It was about demonstrating recipes to an audience of connoisseurs and visitors with Laurent Castagnau, Finalist contest Master Chef TF1 2015.
So, on May 19th, we prepared 3 "signature" recipes of the Saint Seurin Restaurant:
• foie gras stew
• the carpaccio of Scallops
• beetroot and salmon in sauce bordelaise
These 3 recipes were prepared on short sessions of 25 minutes, in front of the spectators, live from the gourmet island. For each recipe there was a different jury and new presentations.
The next day (Sunday, May 20) there was a new session, where you needed creativity and spontaneity. It was to work the products of the company "Cageoterie" which delivers fresh market products in a crate. There is a recipe with everything. I demonstrated some dishes
In a second session, I worked with the young entrepreneur of "Vertuce", producer of amazing juices at very reasonable prices. Taking the juice and the ingredients that made it up, I marinated a scallop in an apple, celery & ginger mix, and served it on a tartar of celery, green apple and cucumber. It was a great weekend with the opportunity to share and exchange ideas.
2018 Gabriel Gette
chef of the restaurant Le Saint Seurin




These events are intended to introduce young entrepreneurs in the Medoc. Their enthusiasm and optimism are a welcome contribution to life in the Medoc. If you are interested and a bit of a gourmet, come to Saint Seurin de Cadourne, you will not regret it! You will enjoy these recipes each more delicious than next! Gabriel and Clara will be happy to welcome you!
Pascaline Aubeneau, Saint-Seurin, translation: Frances Szekely