A Wine Grower from Macau...
among the 14,000 bottles at the Cité du Vin in Bordeaux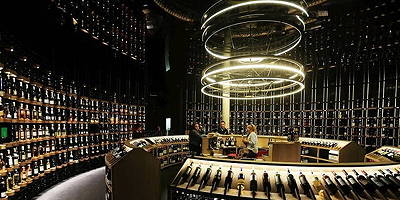 Château Moutte Blanc is a small property of 4.5 hectares in Macau. It incorporates 3 distinct "appellations" : Bordeaux Supérieur, Haut-Médoc and Margaux, and produces up to 7 different wines.
At the beginning of the 1980s, Guy ( a publicity artist ) and Josette ( in pharmaceutical sales ), reached retirement age and happened to take over the running of a small 1 hectare plot belonging to Josette's family.
They restored the vines, modernised the wine store, bought several beautiful casks, and passion took hold. Their son Patrice joined the venture, modernisation continued, the vineyards grew, and, crucially, a vital meeting took place …. with their oenologist, Jacques Boissenot.
In 2000 Patrice stopped working as a psychomotrician to devote himself full-time to Moutte Blanc and Petit Verdot, work which he very soon fell in love with. He is keen to save the genetic stock of those old rootstocks which have virtually all been uprooted in the Bordeaux region. So he selects different mother stocks, clones them and plants them alongside the parent stocks. His passion has truly taken root ….
The opening of the Cité du Vin in Bordeaux at the beginning of June 2016 was a major event in the region. This exceptional site brings together more than 14,000 bottles in its cellar which is said to be unique in the world, comprising wines from more than 80 countries. A real library of wines open to the public as well as to professionals.
Patrice de Bortoli is delighted to see 2 of his wines in this unique place. He is particularly pleased about "La cuvée Moisin", named after the old plot that he owns by the side of the Estuary near to the Port of Macau because of his efforts to make this a wine so very pleasing to the palate.
2018 Xavier Naboulet (Macau), translation: Richard Beasley