Bruno Albert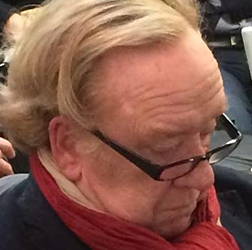 "Bruno Albert, former Mayor of Montlieu-la-Garde, likes the Medoc. No doubt the reason is simple, and one which he describes so well. A bit out of the way, maybe. Somewhat estuarine? From Ambarès to Sud - Saintonge, and from Cussac to Soulac. Where the most fervent will have heard him at least once using his feet and hands at the great organ of Notre-Dame-de-la-Fin-des-Terres. For this is where he banishes his migraines, when there isn't a glass of Bégadan within reach". (Excerpt from Sud Ouest)
Bruno Albert is our neighbour. Whenever I go to the car park, he greets me warmly. Unfortunately, our French does not take us very far, but on Easter Sundayr we were invited to come to hear him play in the Basilica of Soulac. For this great Easter mass, the basilica was crammed to bursting. Bruno Albert played on his wonderful organ and believers sang with fervour.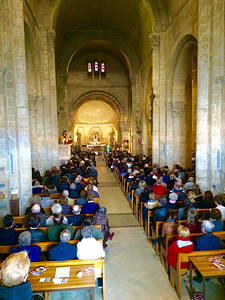 "His novel 'A Dinner in the Médoc' which was awarded Estèphe 2014, is set at the end of harvest in September 1849 on the eve of the Second Empire: A family saga in the vineyards of Bordeaux, as a tribute to the story of the terroir and its people." A real work of love for anyone who loves the Médoc and that is probably the reason why Bruno Albert tells it so well... The Médoc is a country. Bruno Albert unofficially granted Medoc nationality to his wife and four daughters. Which is however not entirely fair, but terribly eloquent. The soul of Bruno Albert wanders from one part of the estuary to another, which is not always easy to follow. This may explain the migraines he will exorcise under the nave of Notre Dame or with a glass of Bégadan. The story? For this former defence attaché, "it is a succession of arrangements a posteriori. Like a culinary creation. You find the recipe and everyone uses it in his own way. (Or, like a knowledgeable assembly of grape varieties which from one cuvee to another is never the same." (Excerpt from Sud Ouest)
After the mass we spent a moment with him and his wife at home, with a bottle of Bordeaux. Communication was easier than I would have dared to imagine, they also both spoke English, and he even spoke some German as he had spent a few years in Germany.
2018 Walter Goldbecker (Soulac), translation: Christopher Murray