La fleur au fusil (?)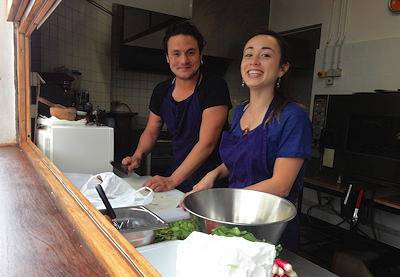 "Le rendez-vous des chasseurs", the legendary bar run by Bernard Metenier for over 20 years, opposite the market place in Saint-Vivien, has become "La fleur au fusil", a restaurant not to be missed this summer and much praised on the grapevine….
The terrace of "Le rendez-vous des chasseurs" was THE place to meet where languages from all over the world could be heard ! And that continues…….Gourmands and gourmets, Marion and Théo share a passion for cooking, but it's an "innovative, creative cuisine connected to the world" as Théo likes to say, which explains his surprising juxtapositions of flavours and spices linked to local supply: the "marché du jour" (the day's market special menu) is based on produce from the shopkeepers and producers in the village. Portions are generous, and everything is a feast for the taste buds! The menu is short: a few tapas, a few entrées , main dishes and desserts. It changes regularly according to what is available locally and the inspiration of the two owners, for both share the cooking: Théo produces the savoury dishes and Marion prefers the desserts. They also offer a set meal every lunchtime and a "formule du marché" (market menu) every Wednesday lunchtime and Sunday evening. The wine list gives plenty of space to Médoc wines but also features young wines, organically produced wines, and wines from around the world.
In opening this restaurant Marion and Théo take over from Bernard Metenier, Marion's father. Lovers of cooking, these two gifted youngsters learnt their trade with Japanese, English, Italian and French chefs : they have worked in France, Italy and Switzerland, for 10 years in the case of Théo and 4 years for Marion.
Why "La fleur au fusil" ? Marion replies with a pirouette : " it's a nod to that French phrase which refers to the soldiers who went off, enthusiastic and carefree, with flowers in their rifles, "singing, like us" adds Théo the musician, who is promoting a little series of concerts in August.
2015 Dominique Rouyer, Saint Vivien, translation: Richard Beasley