Never without my Attestation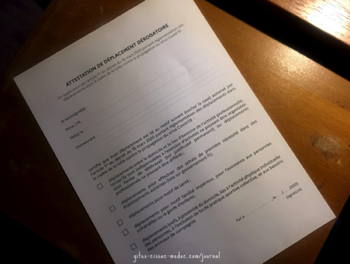 Ten days ago I spoke in my blog, rather ironically, on the effects of the coronavirus. Since then the situation has deteriorated in France, and also in Germany. Yesterday evening, and for the second time in the space of a week, the President addressed his « compatriots », his fellow citizens. TV, and also radio, has retransmitted the 20 minutes of his speech, and we listened, sitting in our kitchen. The national anthem was even played at the beginning and end of the transmission. The President said he could not understand at all why the call to stay at home which he made in his previous speech remained largely ignored. (I too find that completely incomprehensible). So, from today, new rules come into force. In his speech, it's true that he did not use the term « confinement » , ie a ban on going out, but that is certainly what we have now. You have only the right to go to work - if it is not possible to work from home - to shop for basic necessities, to go out for health reasons- eg to go to the doctors, for crucial family reasons, and finally, for example, to go jogging or walk the dog, but always alone and not in a group! For each of these activities, you must obtain this Attestation, fill it in and have it with you.
Even if, when I take the dogs out, I can see quite clearly what I am doing and, furthermore, do not believe that the gendarmes are patrolling the woods and vineyards to check whether any possible walkers have filled in their Attestations ...... no matter, I will in future have my completed Attestation in my pocket.
Moreover:
• at 11 in the morning the village baker had no more bread.
• the dog club is also closed, most definitely, but each week will send out by email exercises you can do with your dog.
• a newspaper has a headline »Massive influx of Parisians on our coasts ». In fact many Parisians who have a second home somewhere on the coast have made the move, which is not really acceptable in terms of stopping the virus.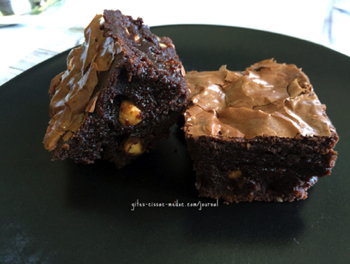 • I have just read that people are taking to the streets not only for basic food shopping but also now to buy petrol.
Well we have no need for petrol because we are not able to make long journeys as our front right tyre has a continuous leak. Certainly garages are open but the garage here doesn't have a tyre of the right size and has to order one. Do we really need it at the moment?
To make life a little more pleasant I have tried out a new brownie recipe - absolutely delicious!
2020 Barbara Jany (Cissac), translation: Margaret and Richard Beasley